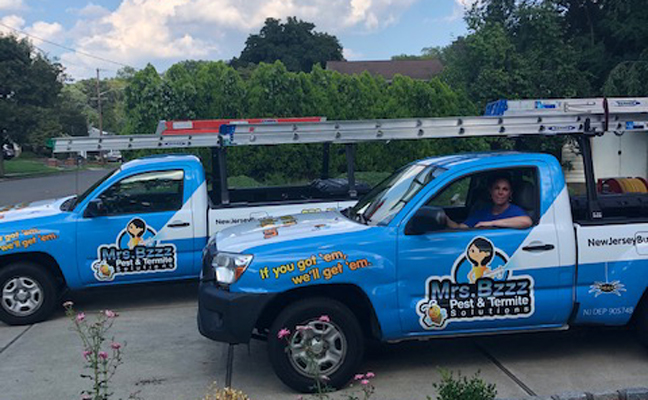 Mrs.Bzzz Pest & Termite Solutions has named Randi Courtney Bowen and Brendan DeVera to its management team.
As office manager, Bowen oversees the day-to-day operations of the Wayne, N.J.-based company, and the projected growth plan for servicing the eastern coastline from Northern New Jersey to Southern New Jersey. She has more than 10 years of experience in the pest control industry.
DeVera, who is a second-generation pest management professional in this family business, has been promoted from senior technician to service manager. He oversees and directs the service team and all of their training.
ABOUT MRS.BZZZ
Founded by 20-year-plus industry veteran Benetté DeVera, Mrs. Bzzz (pronounced Bees) currently serves the New Jersey counties of Passaic, Bergen, Essex, Morris and Sussex. Per a blog post about the "real Mrs.Bzzz" on the company's website, Benetté and her husband, Brian, first started in pest control in Montgomery, N.Y., running Shamrock Pest Management out of a two-bedroom apartment and building it to a regional-sized firm that they sold in 2008. They started anew in Naples, Fla., with Shamrock Pest Management, which continues today with a different owner.
Because they were missing their extended family, the DeVeras and their three sons returned home to New Jersey. (As Benetté jokes in the post, "I know, some of you are wondering why the hell come back up north? Sometimes we ask the same question.")
In 2013, Mrs.Bzzz Pest & Termite Solutions launched in Wayne, N.J. — "a full service pest control company that handles all insects, termites, rodents, and wildlife. They offer service to residential homes, commercial, and industrial businesses."
Last year, Mrs.Bzzz purchased Abbed Pest Control from David Dodd. The Totowa, N.J.-based firm was founded in 1977. Terms were not disclosed, but the deal was brokered by Brian Devera.
The post Mrs.Bzzz expands management team appeared first on Pest Management Professional.
Read more: feedproxy.google.com